What is The Conversion Rate for Shredding Companies Using Google Ads
Google Ads is the platform that allows marketers and business owners to advertise their product or service by bidding on keywords (or Search Terms). Shredding companies across the United States use this service to generate new leads in their market.
But how effective is Google Ads in the shredding industry? - Very!
We have been running Google Ads campaigns to drive searchers looking to get away from the large national brands and find a local service provider.
Whats the national average conversion rate?
Wordstream is reporting the national average, for all industries advertising on Google Ads, is at 2.35%.
Conversions in Google Ads is defined as an action taken on a landing page, whether that be a form field completion, calls, or purchases, made on your website after a searcher clicks on your Google Ad.
We measure conversions for our clients in the shredding industry as form fields or calls from ads that last longer than 30 seconds. If your clients were buying the bins, we would include purchases, but I don't believe that is an industry standard...
Our average conversion rate, the rate at which conversions are completed, across our clients in the shredding industry nationwide, has increased to 15.66% since April 2019. And the cost-per-conversions have significantly decreased.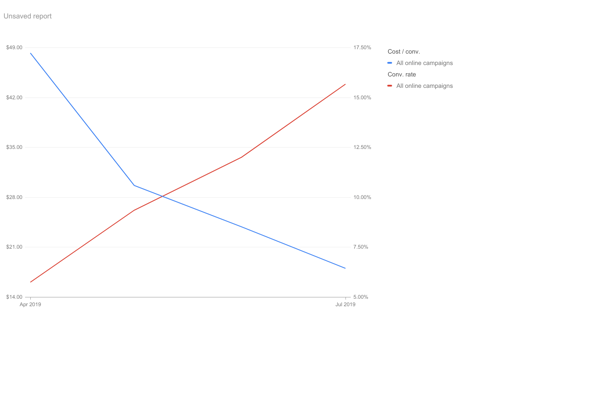 That's well above the national average...
How do we improve Google Ads performance?

We are a Google Ads Partner! This means that we have completed the certifications, manage a monthly advertising budget of $10,000, and make consistent updates to ads and keyword bids for our clients on Google Ads.
You can see our company partner status here.
Every day, one of our specialist makes adjustments to keyword bids and ads to focus on three primary KPI's that increase the rate at which leads are generated from Google Ads:
Conversions: actions taken on your website from Google Ads that turn website users into leads.
Conversion Rate: the rate at which new leads are generated form Google Ads.
Cost-per-conversion: the cost associated with generating new leads from Google Ads.
It's truely all about analyzing your Google Ads performance for what ads and keywords actually lead to conversions. As a small shredding service provider with a small advertising budget, it just doesn't make sense to focus on keywords with high CPC. So, optimizing for the keywords that create new customers is a winning solution.
I spoke about how to do this in a webinar for the Shred America Partner Network this past month and wrote a blog to share publicly with those who didn't get to attend. You can read the article about PPC Advertising For Shredding Companies with Google Ads.
Inbound marketing for shredding service providers
The name of the game for shredding companies across the United States is attracting local businesses searching for shredding services to your website and then converting those website visitors into leads.
This is the inbound methodology. Shredding companies are transitioning to the inbound methodology because of the effectiveness of local SEO, Google Ads, and email marketing.
Using a marketing automation and CRM like HubSpot makes all the difference for attracting, converting, and closing your customers.
If you would like to increase your lead generation for your shredding company, and become the premier shredding service provider in your local market. Find out more about lead generation for your shredding company here.