How To Create Google Local Services Ads
At the end of 2020, Google rolled out a new nationwide ad platform for service providers in select industries. This ad platform would come to be known as "Google Local Service Ads", a program designed to put the power back in the hands of the advertiser and cut wasted ad spending by 100%. At first glance, it seems crazy for any program to guarantee that every penny of your budget is positively spent; however, Google's unique approach to the sales pipeline did just that.
What is Google Local Services?
Google Local Services is an ad platform that allows the user to dispute lead charges on a case-by-case basis. For example, if the service provider received a lead that ended up being a telemarketing call, political ad, or robocall, they would then be able to dispute the lead and are refunded directly by Google. However, the budget efficiency does not end there. If the service provider receiving the lead cannot service the request for any reason, they can then dispute that lead charge and receive a refund. If the lead is out of the market, requesting a service that is not provided, or even just plain unpleasant, the service provider has the power to dispute the lead and receive a full refund on the lead charge.
How Does Google Local Services Work?
Google Local Services creates "Google Guaranteed" ads for the service provider based on their provided information. From there, the Google Local Service Ads connect directly to the service providers' Google My Business page, pulling in customer reviews and rating levels from 1 to 5 stars. Below is an example of one a "Google Guaranteed" ad.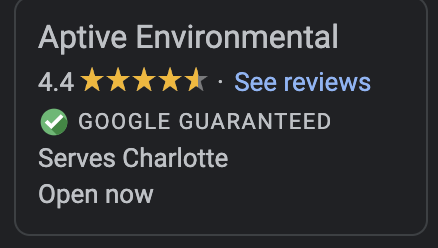 Once a customer clicks on the ad, they are connected to the service provider via phone call. The conversation is automatically recorded and stored in the "leads" section of the Google Local Services Dashboard. After completion of intake, the service provider can then choose to move the lead into the "booked" section to confirm a legitimate lead. If the lead does not work out, it can be transferred to the "archive" section of the Google Local Services Dashboard, and the charge for the lead can be disputed for a full refund.
How To Get Started With Google Local Services
The first step in setting up with Google Local Services is to confirm that your industry qualifies for local service ads. The following industries have been approved so far, with more to come:
Plumbers
Electricians
HVAC
Auto Service Technician*
Handyman*
House Cleaner*
Lawn Care Provider*
Mover*
Painter*
Pest Control Technician*
Roofer*
Tree Service Provider*
*Not all services are supported in all markets.
Once you have confirmed that Google Local Service ads currently serve your industry, you must go through their "Business Verification" process. This "Business Verification" will require you to submit industry-related paperwork such as licensure and insurance information. Upon receiving approval on your paperwork, you are ready to set a budget and start qualifying leads!
Contact Art's Cube
Getting started with Google Local Services is a relatively simple process assuming you have all of your ducks in a row regarding industry-specific paperwork. However, setting a budget and maximizing your R.O.I. with Google Local Services is another ball game. With Google Local Services drawing from your Google My Business Profile, it is essential to ensure that you have maximized your SEO potential and have an excellent Google Review strategy in place for your business.
Art's Cube is a certified Platinum Partner with Google, and we have been learning and evolving as frequently as Google's algorithms change. If you need help penetrating the vast market Google offers, we are here to help. Contact us today for a free consultation and website audit. Let us help you tap into the excellent revenue stream that Google has to offer.