Digital Marketing 101
Plenty of information can be found about digital marketing and its return on investment (ROI); and there is not a solution that is one size fits all. A lot of variables must be considered such as the type of campaign (brand awareness, referral, lead nurturing, etc.) , duration (one week, one month, one year, etc.), the marketing channel(s) (social, email, paid ads, etc.), and key performance indicators (KPI's) to truly understand if your digital strategy is paying dividends.
Through this blog, we hope you gain a better understanding of what can make a digital strategy successful and a positive digital marketing return on investment.
Types of Campaigns
They [campaigns] promote a focused effort that guides consumers towards a desired action. They also give brands identity, personality, and emotion. [HubSpot, 2018]
Brand Awareness
All of us want to be remembered. We want our businesses to be the talk of the town. We want to be found. We want to be recognized as the expert's in our field. So, how do you make this happen? Talking about yourself.
Posting on social media, email communication, blogs, and videos of the various civic associations your a member of, not-for-profit's you volunteer with, minority owned, veteran owned, and everything in between are great ways to promote your brand without coming off "salesy". You're simply raising the awareness of your brand through your interest.
Lead Nurturing
The best way to understand lead nurturing is to imagine growing a garden. For a garden to be successful you have to ensure the ground is properly prepared, the correct amount of sunlight, enough water throughout the day, tending to the surrounding areas to keep weeds out, and harvesting the fruits of your labor when the time is right.
Now let's put the marketing spin on it. A visitor arrives to your website and completes a form - they are planted in your garden. Based off their interest, marketing and sales send very specific and personalized messages - the correct amount of sunlight and water. According to their interactions with emails, social media, and website determines any future content sent to them - keeping the weeds out. Once the lead has matured, a sales professional reaches out - harvesting the fruit.
Reviews
Creating and deploying an automated online review campaign is one of the most important tactics a company should embark on. Google Reviews are so important to your online reputation that reviews make up 15.4% of how Google ranks a local business. Reviews rank as the second most important attribution for search engine optimization (SEO).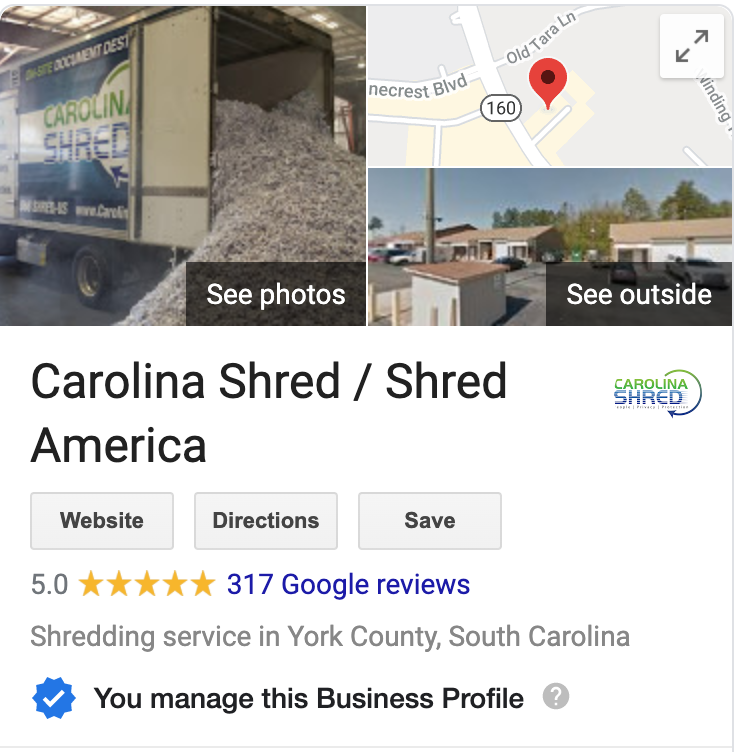 Pictured above is one of our clients, Carolina Shred, who we assisted in reaching over 300 5 Star Google Reviews.
Referral
The low hanging fruit for any and all sales professionals, but almost never implemented as a regular task after the sale. Asking for a referral is the easiest way to generate new leads and close a deal faster.
One of the tactics we deploy for our clients is automating this process and removing the tasks from the sales professional. In an example, Client A signed their contract in January with Sales Professional B and in February Client A receives an automated, personalized email asking, simply, "How has your service been over the last month?" There are two options to choose from 1) Great! or 2) Things could be better.
If Client A chooses option 1, they are sent an email a few days later asking for a referral. I f they choose option 2, then a manager is notified to contact Client A to resolve the issue.
All of this is automated using a Customer Resource Management (CRM) tool - HubSpot.
Marketing Channels
The way your company can be found. A way to deliver marketing and/or sales messages. The medium for communicating with your customers and turning them into your champions.
Email
Yes, I know, your inbox is flooded with emails that you never open and it's annoying. But, what about the emails you do open? The emails that contain a great subject line, preview text that makes you want to open it, it's personalized, it's relevant to your interest, and brief. These are the basic characteristics of a great email and it's 40 times more effective than social media.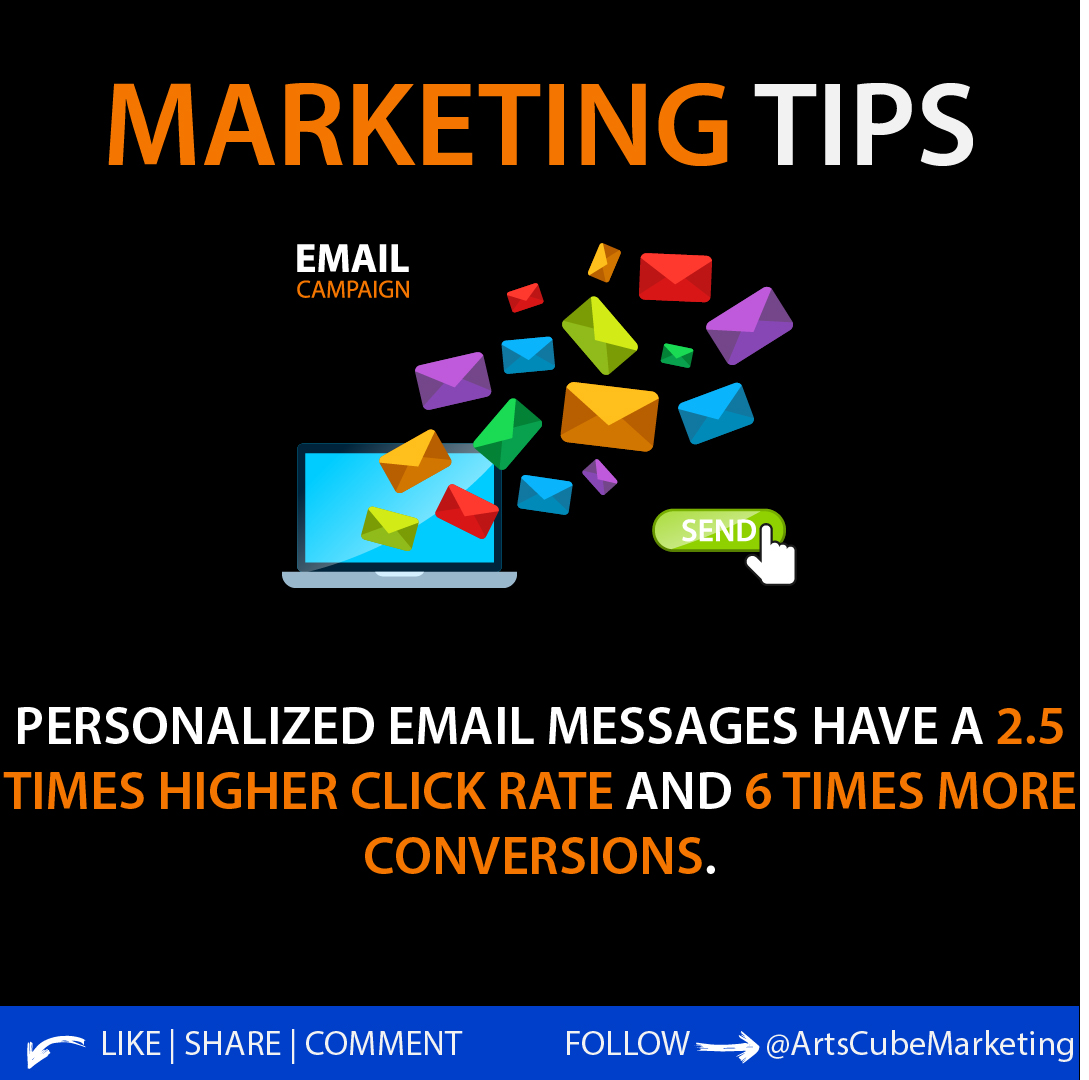 Social Media
As of the first quarter of 2020, Facebook was accessed by 2.6 billion users on a monthly basis. [statista, 2020] In the United States, by 2025, Facebook is expected to reach 235.15 million users.
The other major social network, Instagram, is owned by Facebook and "as of of June 2018, there are an estimated 1 billion Instagram monthly active users worldwide". There are an estimated 107 million Instagram users in the United States alone, a number which is forecast to grow to almost 126 million in 2023. [statista, 2020]
Hence the reason why companies always feel the urge to spend valuable time and resources on these social networks. But, without a strategy and clearly defined goals, your efforts would be better spent elsewhere.
Paid Advertising
Google Ads are on of the most effective tools a business can use to generate more customers. In 2019 Google advertising revenue was over $116 billion and the average ROI was 200%. [Power Traffick, 2019] Therefor it's safe to assume if you are not advertising with Google, your competition is.
Search Engine Optimization (SEO)
SEO is one of the most common acronym's used in the digital marketing world. It's also one of the most misunderstood. The primary goal of an SEO strategy is to make a specific webpage populate when someone searches online. But, it's not as easy as just posting a blog and all of a sudden the page ranks #1 on Google.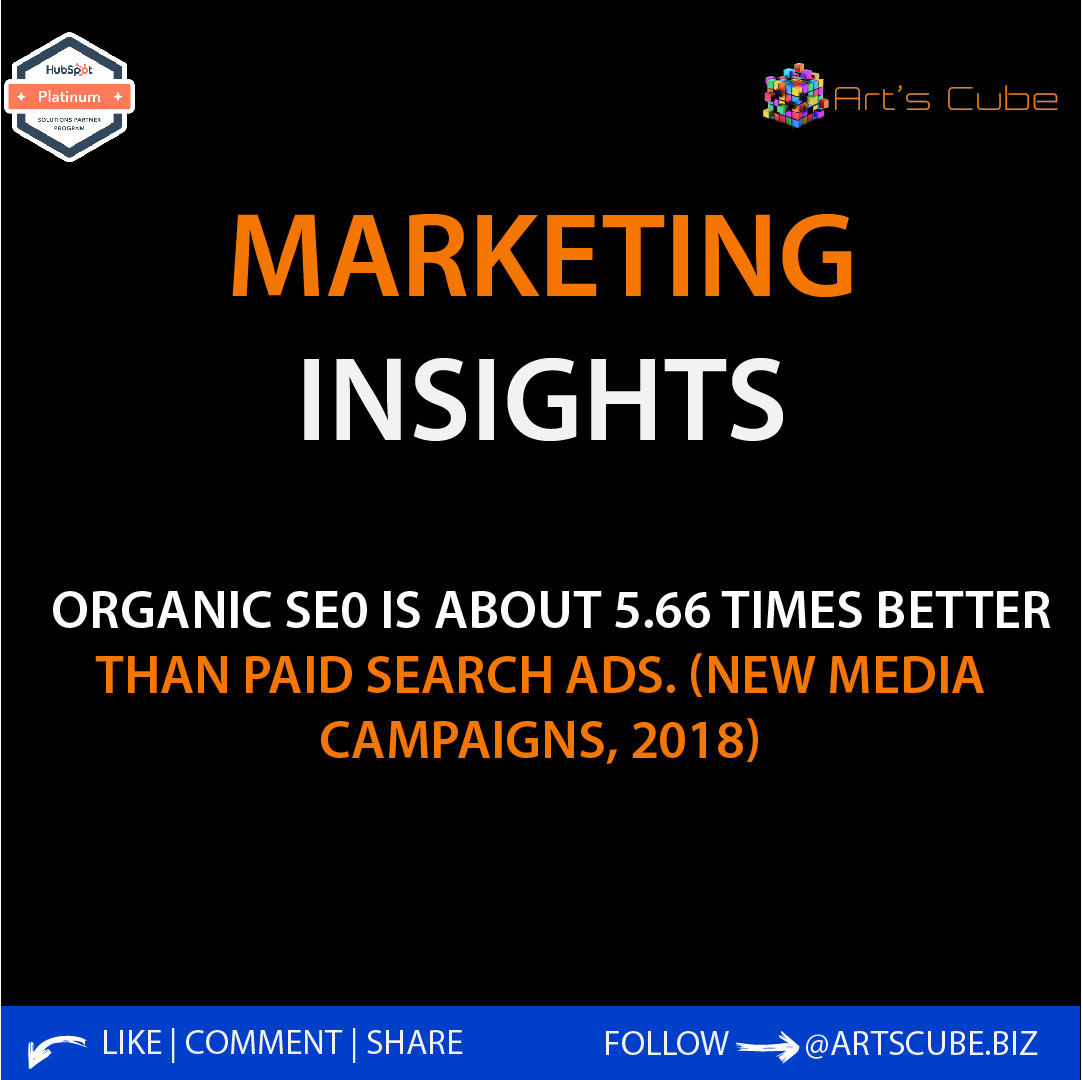 Search engine optimization requires a lot of research to develop pillar topics and sub-topics. A considerable amount of time to identify broken links, missing alt tags, adjusting for different screen sizes, and updating all website pages due to changes in the search algorithms. Even the platform that your website is built on can make this task increasingly difficult.
When it comes to developing an SEO strategy we recommend using a firm that can show you past performances.
Inbound Marketing
"Inbound marketing is a business methodology that attracts customers by creating valuable content and experiences tailored to them." [HubSpot] There are three phrases to pay particular attention to 1) "attracts customers", 2) "valuable content", and 3) "tailored to them".
Instead of being disruptive using traditional marketing (email blast, mailers, newspaper ads) tactics, develop content that solves your ideal customer problems. Once they have entered your domain, every communication from that point forward must be personal, relevant to their needs/interest, timely, and frictionless to continue their journey.
Mapping out a customer journey is a great start to turning visitors into paying customers.
Key Performance Indicators (KPI's)
The KPI's below are only the tip of the ice berg but are fairly standard across different marketing channels and easy to find in the Google Analytics dashboard or in a customer resource management (CRM) tool such as HubSpot. The following example details a Google Ads campaign for one of our clients, Shred America.

Impressions
That's correct, from January 1, 2020 - July 14th, 2020 our team produced over 91,000 impressions for one client. In other words, over 91,000 individuals who searched for a specific combination of keywords viewed the ads. Impressions cost $0.00.
Clicks
Represents the number of "clicks" on a search result that display's "Ad" on the left of the hyperlink. In this case, each "click" - which leads to a landing page - cost our client $3.45 cost per click (CPC).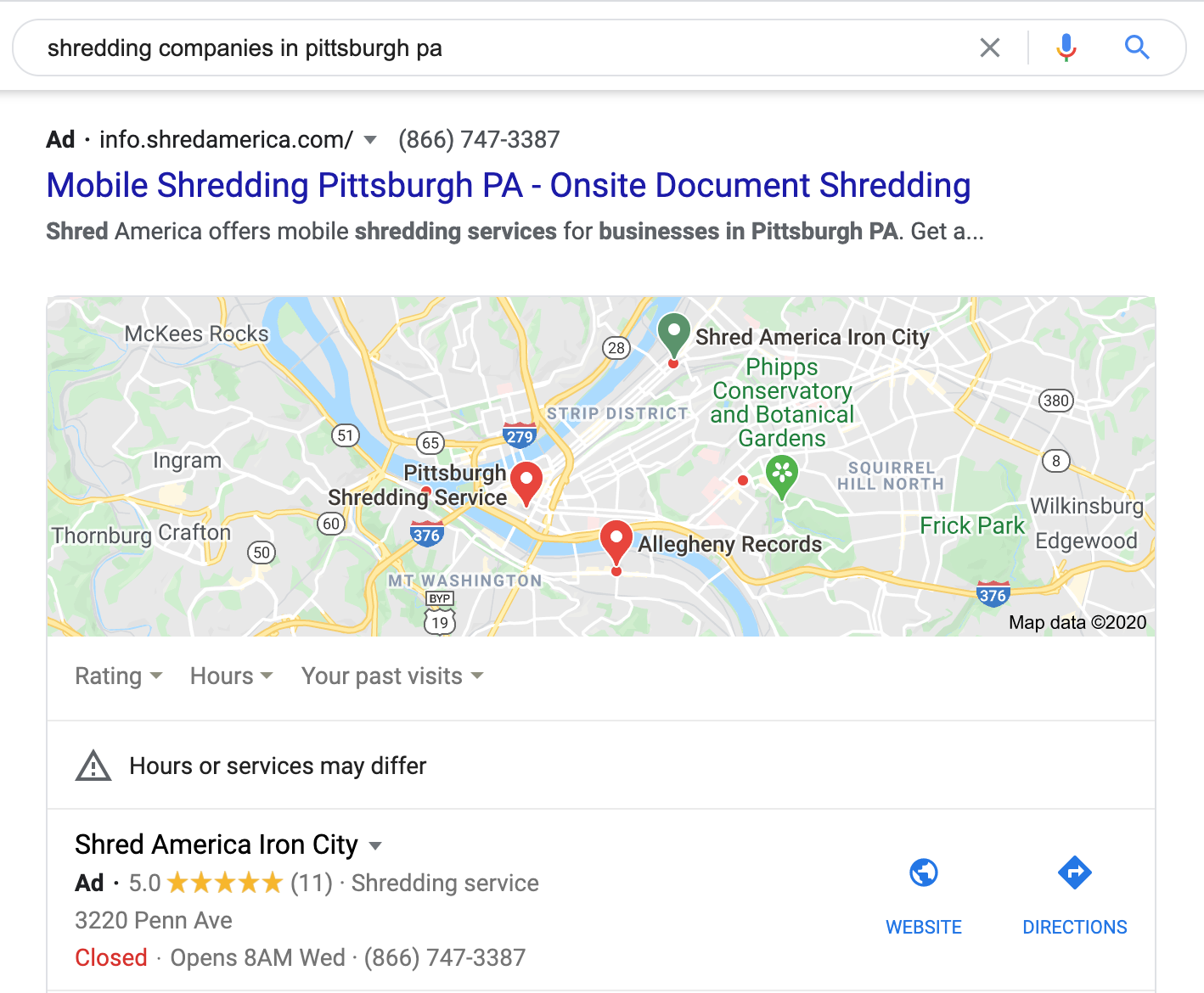 The cost per click varies according to the competition and search volume of a specific keyword. Below, the table compares "shredding company" and "workers comp attorney" to provide an example of the dramatic difference in estimated cost per click per key word.

Conversion Rates

Each of the percentages contained within the grey arrows represents the conversion rate of each stage.
Impressions to clicks - 4.6% conversion rate at a cost of $3.45 each
Clicks to contacts 8.1% - conversion rate at a cost of $42.63 each
Commonly referred to as Lead Acquisition Cost (LAC).
Contacts to Deals (Customers) 28% conversion rate at a cost of $150.54 each
Commonly referred to as Customer Acquisition Cost (CAC).
Duration
How long will a campaign run from start to finish and what frequency will the KPI's be analyzed? A campaign may not start off strong for a multitude of reasons but that doesn't mean you give up. It means you pay closer attention to the KPI's and adjust your strategy based off what the analytics are telling you.
Some campaigns such as a referral or review campaigns are ongoing and can be reported on less frequently. But a 50% off campaign that runs only for 30 days may need to be monitored and reported on daily. It's important to establish the duration of the campaign and frequency of analyzing to ensure proper adjustments can be made.
Return On Investment (ROI)
The most rewarding part of a campaign is calculating the return on investment. Whether good or bad it's important to know where you want to allocate valuable resources in the future. One may find they need to abandon social media and focus on Google Ads. Never make these decisions without understanding the entire picture.
The numbers below represent the Google Ads campaign we have examined throughout this blog post. Would you like to have a 135% ROI?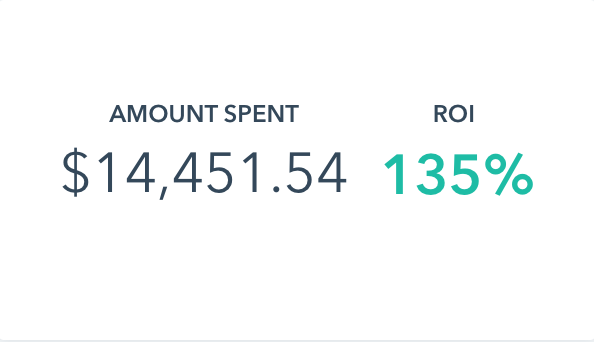 Automation
You interact with automation everyday. Personalized emails notifying you of a sale to reminding you that your car needs to be serviced. Marketing automation is not just for the big companies and can make a dramatic impact on your bottom line by increasing productivity and revenue by delivering personalized, relevant messages that resonate with your buyer.
Online marketing is no longer an option and there are many facets which must be mastered to have a positive ROI. Leave your thoughts or reach out to us to have a conversation.