4 Digital Marketing Campaigns You Must Implement
A digital marketing campaign is an online marketing effort put forward by a company to drive engagement, conversions, traffic, or revenue. [Study.com, Danielle Reed] A variety of marketing channels can be used simultaneously to reach the goals of an organization. Each channel also has different assets that should be associated with the campaign. For our purposes we will only focus on four types of campaigns which our company develops to increase engagement, results in more conversions, website traffic, and revenue.
Brand Awareness
Most small businesses will never reach the brand prestige of Kleenex or Coke. But you can keep your brand in front of your ideal buyer using social media, retargeting, and email marketing strategies.
Using Social Media for Awareness
Social media channels such as Instagram, Facebook, and LinkedIn are great networks to spread news about your brand. When embarking on a social media platform conduct enough research to understand how your ideal buyer uses each social media platform, if at all. If they are there, determine influencers they follow, groups they are members of, which topics interest them, pain points they are experiencing, and identify a way to place your brand as a thought leader by creating valuable content.
Brand Awareness is the level of familiarity that consumers have with a particular brand -- its name, characteristics, logo, and anything else that might be strongly associated with it, as well as its goods and services. It's especially important during a brand's earliest days of formation and growth, as it can indicate and predict market share and differentiation from competitors. [HubSpot, 2017]
Using Partnerships for Awareness
Developing strategic partnerships with a company that provides complimentary products or services is a great way to gain traction.
Using Referrals for Awareness
Nothing is better than a customer talking about you. Develop a variety of referral campaigns and find out which one sticks.
Lead Nurturing
One of the most important steps when developing a lead nurturing strategy is bringing your sales and marketing teams together to identify your buyer personas - typically two to three buyer persona's is a great start.
"....... actionable buyer personas reveal insights about your buyers' decisions -- the specific attitudes, concerns and criteria that drive prospective customers to choose you, your competitor or the status quo." [Buyer Persona Institute]
Equally important is defining your SMART (Specific Measurable Attainable Realistic Timely) Goals for your lead nurturing campaign. Goals can be quantitive or qualitative and you should understand how each goal affects the different stages of the buyers journey.
Next, determine blog content, emails, social post, paid ads, forms, landing pages, lead scoring, and downloadable content to nurture each lead in a personalized and meaningful way. Which results in more qualified leads for your sales professionals and increased revenues.
Reviews
Our account managers are often asked, "where is the best place for my customers to leave reviews Facebook, Google, Angie's List, Yelp!, or all of them?" Google is the 10 million pound elephant in the room and no matter the size of your business they can not be ignored. Then you have Facebook, who's platform provides an array of solutions for users such as local recommendations[link], business reviews, marketplace (that rivals Craigslist), chat, search, and other features that make Facebook a powerhouse. Therefor we always recommend focusing on Google first then Facebook.
How reviews affect your Google ranking
Google withholds a lot of information about how their search engine works and how much each aspect of your online efforts affect your search rankings. But we do know a website must have minimal errors, be fully responsive, adhere to SEO best practices, and be perceived as trustworthy and credible.
Take a look at one of our clients, Carolina Shred / Shred America. We build a Google Review campaign with their sales professionals and look at the results: over 300 5 Star Google Reviews!
Google's SEO algorithm allocates 15.4% to reviews because they send a strong signal to Google that your business is trustworthy and credible. This is especially important with the number of searches that contain "near me".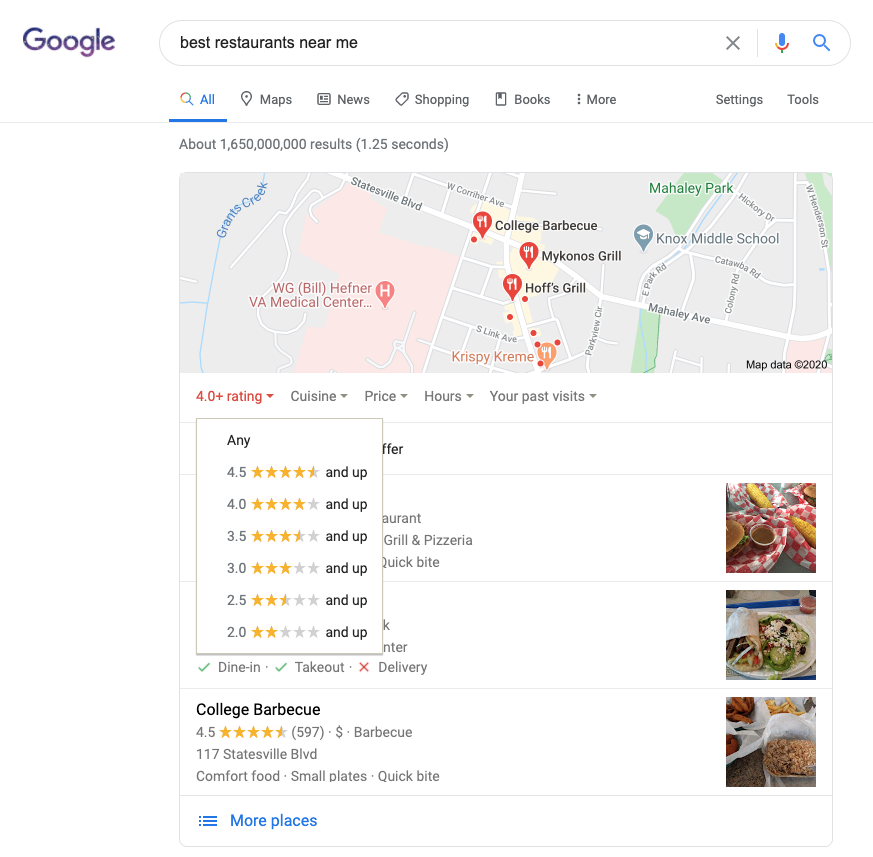 In the example above, the first item to point out is Google's intentional placement of the "review filter".
This is a very clear signal of the weight Google places on reviews and every business should make it a top priority to have a strategy in place.
The Impact of Facebook Reviews
Facebook reviews are a little tricker and do not hold as much value in our opinion. But should be a tactic to consider when running a brand awareness campaign because reviews determine where your business will show up in the news feed. If your business has a lot of positive reviews, the more likely you are to be seen; if you have bad reviews, the more likely you are to be omitted.
In addition, users can also ask for recommendations and - ideally - your business will have positive reviews to support the recommendation. If you are not familiar with this feature, take a look at the picture below.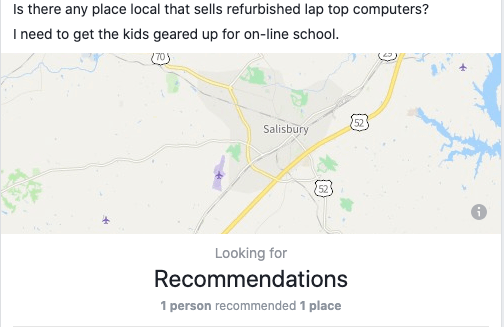 Google and Facebook reviews are both important but we highly recommend focusing on Google before considering Facebook.
Referrals
Referrals are one of the most powerful tools for garnering new leads for your business. No one has authority on the web like a satisfied customer. Just think how many times you have tried a new product or service off the recommendation of one of your friends or neighbors. How often are you let down? In our experience this is one of the most successful campaigns a company can run but often ignored. It's as easy as asking at the right time and ensuring the proper workflows are in place to remind your sales professionals to ask.
These are the four most commonly used campaigns we develop and find a lot of success doing so when the entire team has bought in. And each campaign can be automated leaving more time for managers to coach and sales professionals to develop new prospects.
Please leave your comments or if you would like to have a conversation with Brannon, you can book a meeting on his calendar.