3 Simple Steps to Increase Visibility in Your Local Market
Have you been caught off guard after finding out your website doesn't show up in your local market when you search for your services? We know a lot of business owners that aren't even sure if their website appears in Google Search results for their local market.
As a business owner, you depend on building and optimizing your web visibility for organic and paid search. Learning what SEO is all about is your first step.
Throughout the entire ethos of the web, your website is the one piece of content you have complete control over. Social media channels, like Facebook and Instagram, have limited customization for visuals and content. But you have complete control on what your website looks like and the content your produce and publish.
My first recommendation is to create a Google My Business leading and make sure to include your businesses phone number, address, and website URL. This is an important SEO step in your local marketing strategy to help increase your visibility on Google.
In this article, we are going to cover 3 simple steps to increase your business visibility for search engines in your local market.
Step 1. Run a website audit
How is your website performing? Are there critical technical issues on your website and landing pages? These critical issues could being slowing down your loading time, prevent bots from crawling and indexing your sitemap, or even
Running regular SEO audits on your website can help prepare you for current or future issues on your website. Learn more about the best practices for SEO here.
We use an all-in-one cloud based SEO software kit called SeRanking to analyze keyword rankings, technical SEO, competitor rankings, and other factors.
After running the report, you will receive a landing page SEO audit via email with a detailed report on any issues that could be holding back your landing page's ranking with recommendations on how to repair or update.
Step 2. Fix On-Page SEO Issues
There are three major factors to consider when analyzing your websites SEO performance:
Technical SEO
On-page SEO
Off-page SEO
Optimizing for On-page SEO.
On-page SEO is implementing topic cluster keywords within the unique content on a specific landing page, blog page, or other internal webpages.
After running an audit on SeRanking, any minor or critical issues will be displayed in the report. Here we can see, in yellow, minor webpage issues and critical errors, in red, that could be affecting the ranking in SERPs.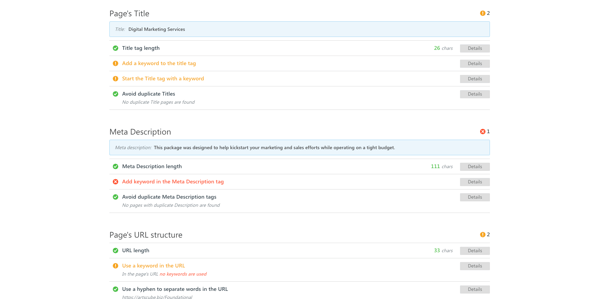 As an SEO beginner, these issues can be fixed by you or your team. Going into the backend of the webpage, you should be able to update the title tag and meta description.
A couple key things to consider when optimizing a webpage or landing page:
Insert focus keyword into the title
Insert focus keyword into the url of the page
Change image alt tags to focus keyword or relevant keyword
Create unique content based on the focus keyword

Make sure to not keyword stuff. Use variations of your focus keyword.
Fixing Technical SEO Issues
Technical SEO is identified by how easy and efficiently bots can crawl your landing pages, blog pages, and internal webpages and index the content on Google.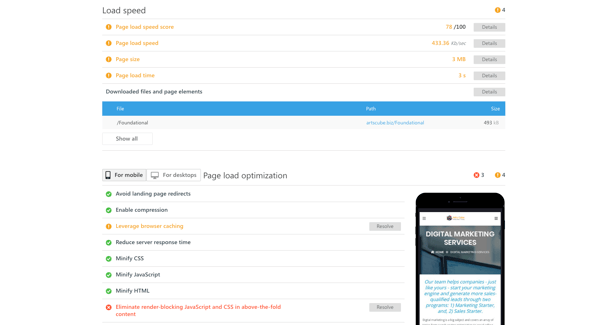 Assuming you have conducted your free landing page SEO audit, if you haven't taken advantage of our free tool, look for issues like:
Load speed
Leverage browser caching
Page size
Minify CSS
Avoiding redirects
HTTP redirect traffic to HTTPS
These issues will require more technical experience and may require you to send to your IT department or website developer.
The average time it takes to fully load the average mobile landing page is 22 seconds. However, research also indicates 53% of people will leave a mobile page if it takes longer than 3 seconds to load. Source
MachMetrics reports that if your landing page fails to load within 3 seconds, your visitors are more likely to leave your website. This will increase your bounce rate and ding the landing page on Google. Make sure to go through and optimize your landing page for optimal page loading speed.
Step 3. Submit New Sitemap to Google
Google is the preferred search engine amongst consumers and business administrators alike.
the global marketing share percentage, in terms of the use of Search Engines heavily favoured Google throughout 2017 - averaging a net share of 74.54%.
That's big...
Google is by far the preferred search engine.
How to submit your sitemap to Google
Login to Google Search Console
In the left hand sidebar select your website
Under "Index" select "Sitemaps"
Under "Add a new sitemap" put in the url of your sitemap

This is going to be - https://yourwebsite.com/sitemap.xml
Learn more on how to submit your sitemap to Google here.
Congrats!
You have performed 3 easy steps to optimized your landing pages to increase visibility in your local market. Remember that running a report one time will not be a long-term solution. I recommend running an audit once a month or once a quarter to keep your pages optimized.
If you need assistance running reports and fixing issues on your website and landing pages, contact our team of dedicated SEO specialist.