How to Connect Your Phone to HubSpot Calling Tool
HubSpot's calling tool is available for free, sales starter, sales professional, and enterprise accounts. This tool allows sales teams and account managers to call contacts directly from their HubSpot dashboard.
After you make a call from a contact record, HubSpot automatically logs the call details directly in your CRM.
In order to use this incredible tool, you will need to complete the steps below.
Register your phone number
Make a call from the HubSpot dashboard
Manage phone numbers for the calling tool
How to register and verify your number for calling
Before you make your first call, you will need to register and verify your phone number in HubSpot. For Art's Cube, we use our cell phones to communicate with clients. So, we do not connect our landline.
HubSpot calling tool allows individual users to connect either mobile or landline phone numbers.
Adding your phone number to the calling tool
Once your register and verify your phone number in HubSpot, you are going to want to test the system by making your first call. I would try this out with a team members contact record.
Go to an individual contact record
Select the contact you will call
On the left hand side, under the contacts name and profile picture there are 6 options to choose from.
Click on the phone icon labeled call
A box will appear with a CTA to "Start Calling"
Click on Start Calling
Enter your phone number
Another box will appear with a code to verify your number
Once you have verified your phone number, you can begin making calls.
Options for phone calling tool
HubSpot's call tool is powerful. The calling tool allows you to make phone calls from your desktop browser, cell phone, or mobile app. It also allows you to record your phone calls.
If you choose the option to record phone calls, we highly recommend that you notify the recipient and confirm consent before hand.
While on the call, you can also take notes directly in the CRM.
Setting a default phone number
You can add multiple phone numbers to call from. Making sure you have at least one phone number is required to make calls.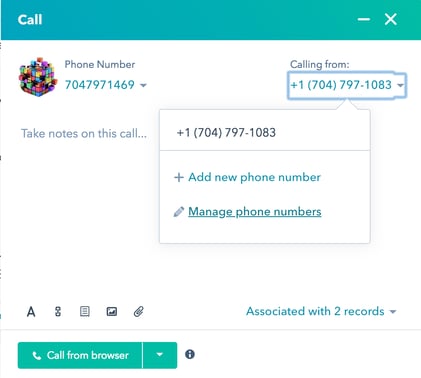 Here is how to set a default phone number.
Go to a contact record and press the call icon button
When the box appears at the bottom, look at the top right hand corner of that box and you will see your phone number
Click on the downwards arrow
Select "Manage phone numbers
You will directed to Settings > Sales > Calling
Scroll down and click the star button next to the number you wish to set as your default

You are all set with the HubSpot Calling Tool. Start making calls, but don't forget to take notes, select the outcome of the call, and ask for consent when recording calls.
If you need help setting up your HubSpot account, schedule a time to meet with me to discuss your needs.