How to Create a Blog Post in WordPress
After you have created the layout for your blog and tested the structure, it's time to post your first blog. Knowing how to post on WordPress blog is the first step. Second is uploading, linking, and setting tags.
Here is a step by step guide to creating a post and uploading content to your WordPress blog.
Login to your WordPress site
On the left hand menu, go to Posts > Add New
This is where you can upload your content and schedule the post to be published.
Creating WordPress blog post
Ok...
You are looking at a page that says "Add New Post" and there are a lot of blank sections. Here, you will have to upload your title, body content, and blog image, along with internal and external links.
Add your blog title
In the section at the top labeled "Add title", add the title of your blog here.

Pro tip - keep your blog title under 70 characters. This includes spaces.
Upload your blog body content
The blog body content is the text that is the blog. This is where you will provide solutions to your target audiences biggest challenges that links to landing pages and other website pages.

Pro tip - make sure you are structuring your blog body content for search engine crawlers and human readers alike. Including subheadings, links, and images with alt tags.
Selecting categories and tags for blog post
Categories and tags are important pieces for an optimized blog. Go back to your blogging strategy and select the category defined in the strategy. If you haven't created a blogging strategy, I highly recommend you do so.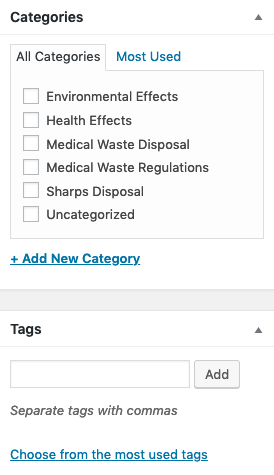 Adding a new category is easy...
Under the section Categories, at the bottom, select +Add New Category. Type in your new category and press the Add New Category button.
You can select one or multiple categories.
Next, and this is optional but recommended, add a tag to your blog post. This creates a deeper segmentation for readers to find exactly what they are looking for on you blog. Plus it is a simple and clean SEO technique that helps crawlers identify what the blog post is about.
Upload a unique featured image

Images are important for painting a picture of what your blog is about for your readers. If you are writing a blog about email marketing, you wouldn't want to include an image containing horses or a farm.
This doesn't relate to the reader nor to crawlers...
Click on "Set featured image", highlighted in blue. You will be prompted to Upload Files or search in your Media Library.
If you already have an image in your library that you would like to use, select the image and click "Set featured image."
For new files, click on Upload Files. A screen will appear with a button in the center labeled "Select Files." Click the button.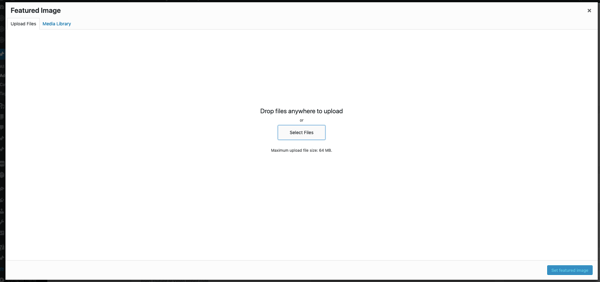 After you click on the Select Files button, find the image from your device and press Open. After the file uploads, make sure to add an alt tag and click the blue button labeled "Set featured image".
Congrats your blog content is uploaded and ready to publish! If you have Yoast installed, make sure to go to Edit snippet and update:
Focus keyphrase
SEO title
Slug
Meta description
If you do not have this plugin installed on your WordPress website, I highly recommend taking advantage of the free version.
Schedule or immediately publish blog post
After you have added the blog title, uploaded the blog body content, featured image is set, and on-page SEO completed, your ready to schedule or post your blog immediately.

In the top right corner, find Publish and click on the edit link, highlighted in blue. Here you can set the publish date for the future or publish immediately.
That's it... You have created your first blog post on your WordPress blog. But make sure that you are creating, publishing, and posting new blog content on a regular cadence to gain better standings with Google and other search engines.
If you are looking to grow your organic rankings and drive relevant traffic to your website, schedule a time to speak with me about your idea. Failing to plan is planning to fail...
So make a plan, and stick to it.